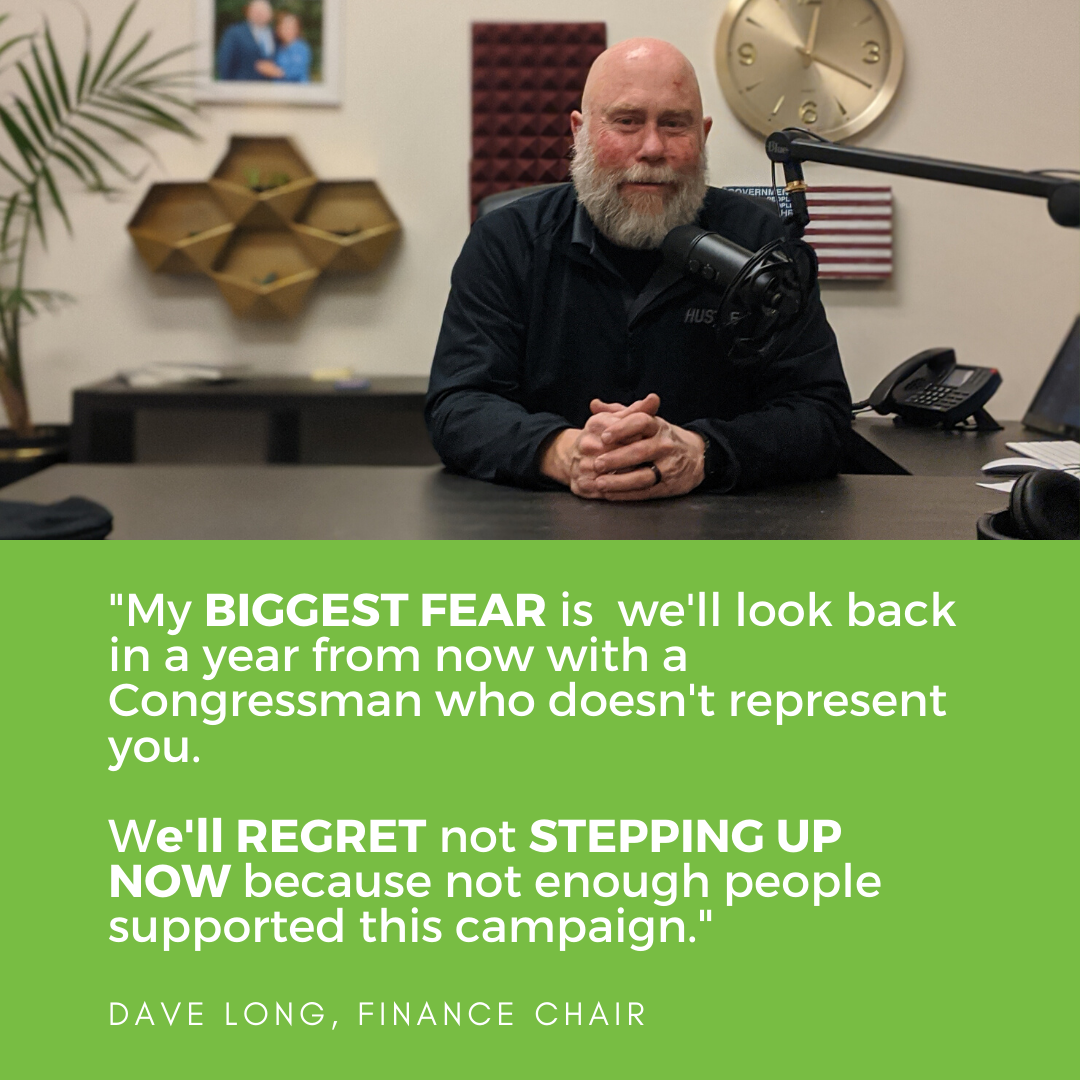 Guest host: Dave Long--Finance Chair: 
WHAT CAN YOU DO TO SACRIFICE FOR THIS CAMPAIGN?  
My BIGGEST FEAR is we'll look back in a year from now with a Congressman who doesn't represent you. We'll REGRET not STEPPING UP NOW AND DIGGING IN DEEP TO DONATE because not enough people supported Jay's campaign. 
My biggest fear is that if Jay doesn't become the next Congressperson, any hope that we have to restore civility will be gone forever. JAY MCFARLAND IS OUR LAST CHANCE TO FIX THE DIVIDE IN WASHINGTON D.C. 
Jay is polling 15% higher than any other Republican contender, so the chances of him being the next Congressperson is huge IF ONLY HE CAN GET ON THE BALLOT. There's a big chance that he can't afford the signatures to get on the Republican Primary Ballot. On the flip side, Jay's contenders who have self-funded their own campaigns who have no name recognition have a BIGGER CHANCE of getting on the ballot because they can afford it. 
Let's be frank--the max you can donate to Jay's campaign is $8,400. But we're not a campaign built on $8,400 donations, we're a campaign of people who have donated to the uncomfortable amount that's unique to each of them. One elderly woman on fixed income donated $400 and gathered signatures with her arthritis in the snow and the cold. I imagine that $400 donation and signature gathering was more uncomfortable for her to give to Jay than it was for me to give $8,400. WE JUST NEED MORE DONATIONS AND VOLUNTEERS. My kids can't financially donate to Jay's campaign. However, they've given up countless hours to gather signatures for Jay. I couldn't be more proud of them and their hard work. 
If I don't give EVERYTHING TO THIS CAMPAIGN I'm afraid it will haunt me forever.  
DONATE NOW: JAYMACFORUTAH.COM/DONATE 
-Dave Long, JayMac for Utah Finance Chair 
Jay Mcfarland--JayMac for short--is a candidate in Utah's Fourth Congressional District. He's the former host "JayMac News Show" on KSL NewsRadio. He's an author, a PluralSight instructor, and an app developer.